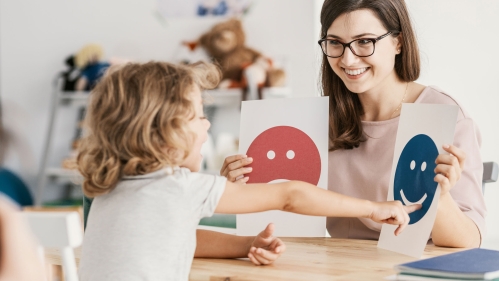 School PsyD Placements
This is a three semester sequence, beginning in the second semester of student's first year of doctoral studies. It continues throughout the Fall and Spring semesters of second year of coursework for a total of three semesters.
Students register for 150 hours for practicum which includes 30 hours of Advanced Supervision conducted at GSAPP, Rutgers University. Students are responsible for tracking all of their hours and activities so that both GSAPP and their practicum supervisors can review these hours.
The overarching goal is to familiarize student with the CST and role of school psychologist. Exposure to non-CST roles for school psychologists is possible, but must occur in conjunction to the CST role, in order to meet NJ Dept. of Ed certification requirements.
Students are advised that practicum sites are NOT responsible for providing specific practicum experiences to meet GSAPP course requirements (for example, testing, consultation cases). However, the ability to utilize real-world cases and experiences certainly enhances student's ability to learn and most students prefer obtaining certain experiences in their practicum, if possible, because it enhances meaningfulness for them.
Centers
Douglass Developmental Disabilities Center
Graduate School of Applied and Professional Psychology, Center for Applied    
Psychology, Foster Care Counseling Project
Graduate School of Applied and Professional Psychology, Center for Applied Psychology, Inclusive Schools Climate Initiative (ISCI)
Graduate School of Applied and Professional Psychology, Depression Prevention Initiative
Graduate School of Applied and Professional Psychology, Natural Setting Therapeutic Management (NSTM)
Graduate School of Applied and Professional Psychology, Psychological Clinic
Graduate School of Applied and Professional Psychology, Psychological Clinic, Tourette Syndrome Therapeutic Program
Graduate School of Applied and Professional Psychology, Psychological Clinic, Youth Anxiety & Depression Clinic (YAD-C)
Rutgers Department of Sports Medicine
Rutgers - Elizabeth M. Boggs Center, Positive Behavior Supports in School
Rutgers-RU Step Science, Technology, Engineering, and Math Talent Expansion Program
Rutgers - RWJMS - EOHSI Clinical Center - World Trade Center Health Program Clinical Center of Excellence
Rutgers - RWJMS - Pediatrics - Institute for the Study of Child Development
Rutgers Social-Emotional Learning in Schools Action Research team (RU-SEL-ART)
Rutgers Social-Emotional Learning Lab
Rutgers University Counseling, ADAP, and Psychiatric Services (CAPS) 
St. Luke's - Roosevelt Hotpitals - Mount Sinai Health System - Child and Family Institute, Adolescent Day Treatment
The Arc of Monmouth, Ambulatory Care Clinic
The Clinic of New Jersey Institute for Training in Psychoanalysis
The Leaguers, Inc. 
University Behavioral Health Care, Children's Day Hospital
University of Medicine & Dentistry, Environmental & Occupational Health Services Institute
University of Medicine & Dentistry of New Jersey, Elizabeth M. Boggs Center
YCS Institute for Infant and Preschool Mental Health

 

Schools
Asbury School District, NJ
Berkeley Heights School District, NJ
Bruriah High School, NJ
Chester School District, NJ
Cliffside Park School District, NJ 
Edison School District, NJ
Elizabeth School District, NJ
Franklin Lakes School District, NJ
Glen Rock School District, NJ
Hamilton Township School District, NJ 
Hawthorne School District, NJ
Highland Park School District, NJ
Howell School District, NJ
Jersey City Public Schools - Collaborative Coaching Project, NJ 
Kenilworth School District, NJ 
Livingston School District, NJ
Marlboro School District, NJ
Marlboro High School - Freehold Regional District
Matheny Medical & Education Center, Peapack, NJ
Middlesex School District, NJ
Middletown School District, NJ 
Newark Public School District, NJ
New Brunswick School District, NJ
New Providence School District, NJ
New Road School of Parlin, NJ 
North Brunswick School District, NJ
Nutley School District, NJ
Perth Amboy School District, NJ
Piscataway School District, NJ
Princeton School District, NJ
Red Bank School District, NJ
Ridgewood School District, NJ
Rider University Counseling Services - Westminster Campus & Zoerner House, NJ
Shepard Schools, Morristown and Kinnelon, NJ
Somerville School District, NJ
South Brunswick School District, NJ
Union Township School District, NJ
Upper Freehold School District, NJ 
Watchung Regional School District, NJ
Westwood Regional School District, NJ

 

Other Agencies
Albert Einstein College of Medicine Childrens' Evaluation and Rehabilitation Center - Infant Toddler Team
Bellevue Hospital, Pediatric Hospital Center, NY
Beth Israel Medical Center, NJ          
Brooklyn College Counseling Center, NY
Center for Family, Community & Social Justice, Inc., NJ
Children's Corner, NJ
Children's Hospital at Montefiore (CHAM) - Pediatric Psychology, NY
Children's Hospital of NY Presbyterian - General Outpatient Child and Adolescent Psychology, NY
Children's Hospital of Philadelphia (CHOP), PA
Children's Specialied Hospital at Hamilton, NJ 
Children's Specialized Hospital, Neuro-Rehabilitation Program, NJ
Community Services, NY
Four Winds Partial Hospitalization Program, NY
Hackensack UMC - Institute for Pediatric Cancer and Blood Disorders (Tomorrows Children's Institute)
Hackensack UMC Audrey Hepburn Children's House - Northern RDC for Child Abuse and Maltreatment 
Highland Park Community Teen Center, NJ
Interborough Developmental and Consultation Center (IDCC)
Institute for Psychoanalytic Training and Research (IPTAR), NY
Ivy Prep Learning Center, NY
Job Corp of New Jersey
Kessler Institute for Rehabilitation
Kings County Hospital Center - Child Track
Lenox Hill Hospital Child Clinical Neuropsychology Center for Attention and Learning Disorders 
LifeTies, Inc., NJ
Montefiore Medical Center for the Albert Einstein College of Medicine - Neuropsychological Assessment Service
Morris Union Jointure Commission
Mount Sinai - Division of ADHF, LD and Related Disorders 
National Institute for Early Education Research, NJ
Neuropsychology and Counseling Associates
New Brunswick Counseling Center/Damon House 
New Jersey Department of Education, Office of Special Education
New Jersey Department of Education, Office of Educational Support Services
New York Presbyterian Hospital 
Princeton Center for Leadership Training, NJ
Robert Wood Johnson Medical School—Division of Addiction & Psychiatry
South Beach Psychiatric Center-Adolescent Day Treatment, NY
St. Luke's - Roosevelt Hospitals - Mount Sinai Health System - Child and Family Institure, Adolescent Day Treatment
St. Mary's Hospital-CMHC, NJ
St. Peter's Hospital, NJ
The Arc of Monmouth, Ambulatory Care Clinic
The Clinic of New Jersey Institute for Training in Psychoanalysis 
The College of New Jersey Counseling & Psychological Services, NJ
The Agudah-Jewish Services Coalition, NY
The Haven Program, Piscataway, NJ
The Leaguers, Inc.
United Family and Children's Society, NJ
Westchester Jewish Community Services, NY
Westminster Choir College Counseling Center
Yeled & Yalde Community Teen Center, NY
Yeshiva University—Albert Einstein College of Medicine, NY
Youth Development Clinic, NJ 

 

Schools
Bedford Road School, Pleasantville, NY
Berkeley Heights School District
Bordentown School District
Burlington County School District
Chester School District
Clark Township School District
East Brunswick School District
East Windsor Regional School District
Elizabeth Board of Education
Fair Lawn School District
Hanover Township School District
Hazlet School District
Howell Board of Education
Hopewell Valley Regional School District
Kenilworth Board of Education
Livingston School District
Logan Township School District
Marlboro Township School District
Matawan-Aberdeen Regional School District
Middlesex Borough School District
Middletown Township School District
Monroe Township School District
Newark School District
New Brunswick School District
New Hanover Township Board of Education
New York City Department of Education
North Bergen School District
North Brunswick Township School District
North Plainfield School District
Paterson Charter School District
Perth Amboy School District
Piscataway Township School District
Prince William County Schools, VA
Red Bank Borough School District
Roselle Park School District
Roselle School District
Sayreville School District
Shepard Schools, NJ
Somerville School District
South Brunswick School District
South River School District
State of Hawaii Department of Education
Toms River Regional School District
Trenton School District
Union Township School District
Wall Township School District
Watchung Borough School District
Weehawken School District
West Morris School District
West Orange Board of Education
Westwood Regional School District
Winslow Township School District

 

Hospitals
Hackensack University Medical Center, NJ
Lincoln Medical & Mental Health Center, NY
Newark Beth Israel Medical Center-CHATT Program, NJ
St. Luke's-Roosevelt Hospital-CARES Program, NY
St. Luke's-Roosevelt Hospital, NY

 

Other Agencies
Bikur Cholim, Inc., Center for Applied Psychology, NY
Institute for University-School Partnership, NY
Kennedy Krieger Institute/Johns Hopkins University School of Medicine, MD
Lincoln Hills/Copper Lake Schools, WI
Milton Hershey School, PA
Rutgers/GSAPP Project Natural Settings Therapeutic Management
Rutgers/GSAPP Psychological Clinic/Tourettes Syndrome Program
Rutgers University Livingston College Counseling Center
St. Joseph's Orphanage, NJ
South Bergen Jointure Commission, NJ
University of Miami, Miller School of Medicine, Mailman Center for Child Development, FL